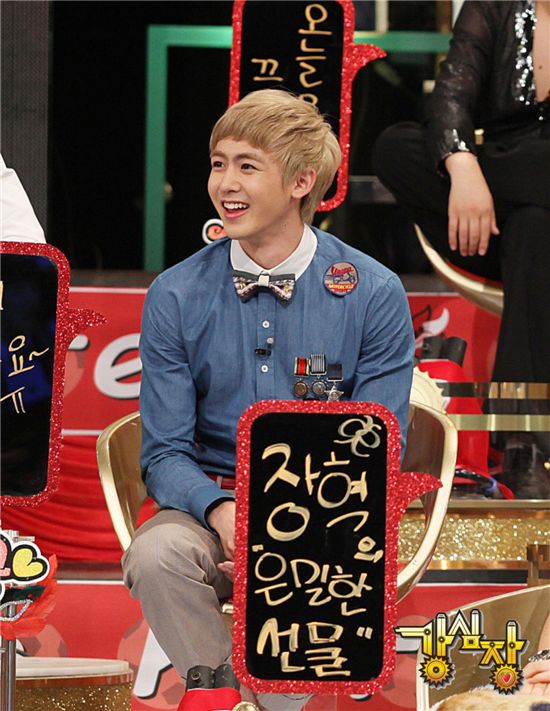 Boy band 2PM member Nichkhun appears on talk show "Steel Heart" [SBS]
Nichkhun, member of popular idol group 2PM who is famous for his dashing looks, has said that being told he is pretty is like "an insult" for him.
The 21-year-old singer made the remark while appearing as a guest on popular celebrity talk show "Steel Heart," according to a press release by the show's broadcaster SBS on Tuesday.
"I really hate being called pretty," said the singer on the show, revealing a painful incident during his childhood related to his feminine look. "Even now when people tell me I am pretty, it feels like an insult to me."
Determined to prove that he is more than just a pretty face, the young star made various facial expressions during the taping that drew a big laughter from the crowd.
Nichkhun, whose full name is Nichkhun Buck Horvejkul, is a Thai-American singer who was discovered by a JYPE talent agent in Hollywood. He moved to Korea and joined 2PM which has become one of the most popular idol groups in Asia since their debut in September 2008.
The "Steel Heart" episode featuring Nichkhun and his bandmate Junsu airs tonight on SBS.
Reporter : Lynn Kim lynn2878@
Editor : Jessica Kim jesskim@
<ⓒ10Asia All rights reserved>
* LOL he's cute. I don't know others but I think Nickhun is more on a cute type rather than pretty. If he's pretty I will already list him on Man with pretty Face . (>.<)