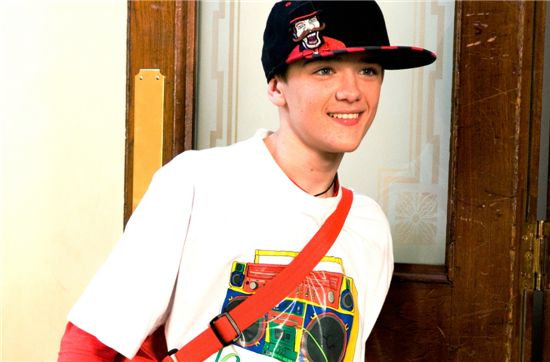 British street dancer George Sampson
British street dancer George Sampson has challenged Korean pop idol and well-known b-boy dancer Park Jae-beom to a dance battle.
Sampson, a street dancer from Manchester who became famous after winning "Britain's Got Talent" in 2008, said that he would like to face the former 2PM leader in a dance contest during an interview posted on video-sharing site Gom TV (link to video: http://ch.gomtv.com/888/22564/369250).
"Jae-beom, I've heard you are amazing, the best in Korea," the 16-year-old said in the video. "I would love maybe one day we just have a friendly dance battle. The best of England against the best of Korea."
He ended the message by saying in Korean, "Jae-beom, let's meet right now" for the proposed dance match.
The young star had high praise for not only Park but for Korean b-boy dancers as well, calling them "the best in the world" and revealed that he is a big fan of a 14-year-old b-boy named Pocket.
Sampson became a phenomenon in 2008 throughout U.K. when he auditioned for popular TV show "Britain's Got Talent," created by American Idol judge Simon Cowell. He danced his way to the finals and eventually became the youngest -- at 14 -- winner to take the crown.
He is currently visiting Korea to promote the upcoming dance flick "StreetDance 3D," in which he plays a young dancer by the name of Eddie. The pic features a variety of dances including street dance, hip-hop and ballet.
Reporter : Park So-yoen muse@
Editor : Lynn Kim lynn2878@
<ⓒ10Asia All rights reserved>