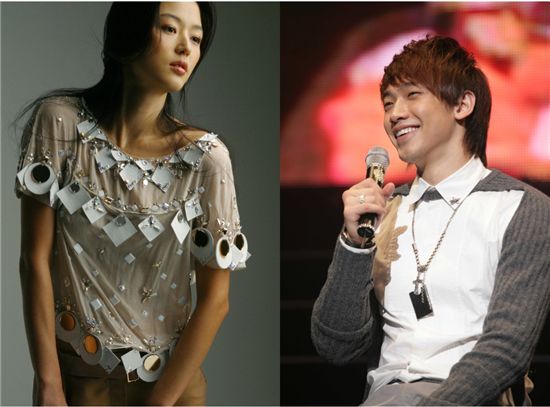 Top Korean stars Jun Ji-hyun (left) and Rain [Sidus HQ / J.Tune Entertainment]
Asian superstar Rain's agency J.Tune Entertainment has officially denied the day's earlier reports that the singer and actor has been secretly dating top Korean actress Jun Ji-hyun.
J. Tune announced in a press release Thursday afternoon -- several hours after local media Sportsseoul.com reported that the two have been romantically involved since last October -- that details of their alleged courtship, such as how and where they met, are "not true."
"It is true that Rain is friends with Jun," an official at J. Tune was quoted as saying, confirming numerous reports that the actors have discussed appearing in a television drama together.
However, the official denied Sportsseoul.com's story about Rain and Jun meeting through a mutual acquaintance, a prominent figure in the Korean conglomerate family who played matchmaker for the stars.
In response to paparazzi photos and an eye witness' account of Rain's frequent visits to Jun's apartment in Seoul's tony Samsung-dong neighborhood, he said the actor was actually visiting "a friend" who lived in the same building.
And photos of their cars entering the apartment complex were "taken on separates dates," as opposed to traveling separately in order to keep their romantic meetings secret from the public, the official added.
Sportsseoul.com had also presented several photos of Rain and Jun wearing accessories from Cartier, a high-end jewelry maker, as evidence that they were a couple. In the pictures, Rain was seen wearing a platinum ring on his ring finger while Jun had a leather bracelet from the same brand.
J. Tune explained that the ring is "a family ring," not a couple ring representing the actor's romantic commitment to the actress.
The agency ended the statement by saying they are "saddened" that Rain's privacy has been invaded and that they are considering "taking legal actions" against the false media report.
Reporter : Lynn Kim lynn2878@
Editor : Jessica Kim jesskim@
<ⓒ10Asia All rights reserved>
* Rain can date whoever he want... He don't need to ask for anyone approval. If he really date Jun than that's great if not so what? I believe he know what he do. He have been wanting to have a girlfriend and if he really have one I don't think he'll denied it...