I've read so many complaint about Goong S...and someone even say's to me that Goong S will never be better without the original cast...I'll agreed with that statement but only if the Goong S was the sequel...but in this case, Goong S was totaly a different story of the royal family. Thinking of the different between these two drama I'll be even glad that the original cast of Goong didn't play in it...why? because I couldn't bare to rewatch how they started their love...
Well here I write up the synopsis of Goong S...just to make it clear that Goong S was not the sequel...


The Queen (played by Myung Se Bin) is in her early 30s but still unmarried. Because of this, in a condition where there cannot be a reduction in the number of successors to the throne, the present prince (the 1st successor) suddenly past away and leaves a vacancy in the line of successors.
In order to fill in the line they've start their searching mission for the secret prince and finally find Lee Hoo (played by Se7en), who has been living outside the palace.
Lee hoo is the son of a prince and his mother who died early, had departed with his father and left the palace, hiding the fact that she was already pregnant. He does not know that he possesses royal blood and has lived, working as a delivery boy at a chinese restaurant.
Although usually, he has wang ja byung (?) (prince disease), he had never dream of entering the palace and receiving royal lessons.
Lee hoo, the unbelievable no. 1 successor to the throne and the perfect Lee Joon (played by kang doo) will bring tension to the drama as they fight over the position.
After Lee Hoo enters the palace, an important place will be the royal academy. It is a place for members of the royal family as well as descendants of wealthy families.
The drama will also be about the romance between the characters.
His blood flows the royal blood, but Lee Hoo doesn't know it. Not knowing that he's a prince, he works at a Chinese Restaurant called 'The Palace' as a delivery boy. He looks at everything in a positive aspect and is an optimist by nature. Though he lives in poverty (poor), he lives freely with a simple mind. Things started to change when he's visited by an unknown visitor.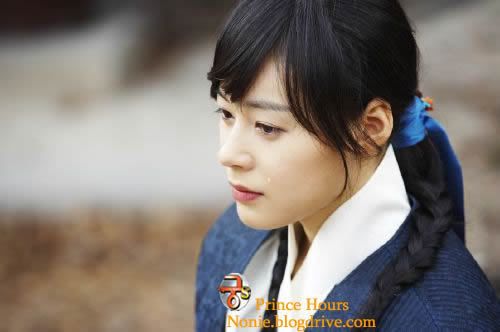 Heo Yi Jae ~ Yang Soon-Ae
Everyone in the neighborhood knows Soon-Ae as an impracticable girl. She thinks preciously of her fraternal twins. It was her dream to be able to work in the palace, but after knowing that the prince she will serve is the boy that she grew up with together as a child, her dream begin to shake and everything seems completely out of control.
Park Shin Hye ~ Shin Sae-Ryung
Honor and power, Sae-Ryung grew up in a wealthy family. She has never lost first place/spot at school (meaning she's very smart)…she has skills and the looks of becoming prince's wife. She always had the ambition of becoming a royal princess. However, the prince that she has always imagined of is completely different when she see's Lee Hoo's sudden appearance. A change comes to her way.
To become a prince, he recieved training as a mastery elite. He's a great candidate. Lee Hoo's appearance makes Lee Joon get farther away from becoming a prince. He's a perfectionist and charismatic. But in the inside there is a dream that he want to achieve, there is things he want to pursue, things that no one know.
Here some photo that I would like to share...
*Moved from Nonie.blogdrive.com