This is a great movie one of my favorite... if you're looking for something that really could entertaint you so this is the one...why? because it's really simple...the feeling is there...when it was sad it was really sad and when it was funny it was really hillarious...admit it you'll never think of watching it if you didn't really know the actor coz it's happened to me too...but this one is different...maybe I was kind of bored with a love story telling so trying to find something that really valued me...then I gamble the chances to get the best movie and I choose this one...I watch it 3 or 4 month ago but couldn't make the review at that time...busy of coz with some other stuff...so today I'll try to spend some of my time and updating this blogs with this review...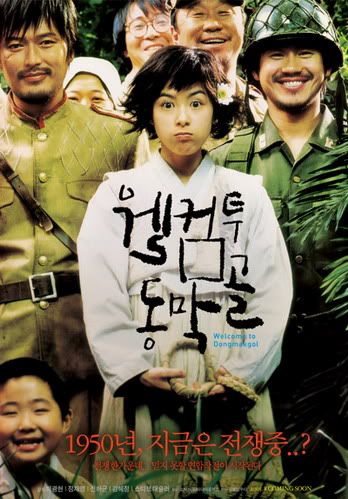 This movie is about group of army which is from different path or in the simple words...anemies accidently gathered in a village called Dongmakgol. All of this sudden happens when Smith the U.S pilot crash lands in the outskirt of Dongmakgol.
Smith was given the warm welcome by the villagers, with different language it's kind of hard for Smith and the villagers to communicate...however the villagers didn't really care for the difficulty and still treated him well. Smith is soon joined by two South Korean soldiers Lieutenant Pyo Hyun-Chul (Shin Ha-Kyun) and the comical medic Moon (Seo Jae-Gyung). This soldier then joined by the last surviving members of a doomed platoon of North Korean soldiers Commander Lee Su-Hwa (Jung Jae-Young), Private Jang (Im Ha-Ryong), and patriotic teen soldier Taek-Ki (Ryoo Deok-Hwan), all of whom end up following a spaced out villager named Yeo Il (Kang Hye-Jung) back to the village.
This gatering of coz was the last thing these group of soldier thinking of...and this part is the hilarious part where they started to point out their gun to each other and the villagers seems to be clueless what it's all about. It takes them a day to stop their 'weird' act (well that what's the villagers think)...and so many things had happened while they were in the village...until they started to convince each other that they acctually could live together and befriend...
I really love the scenes where the medic Moon and the Private Jang seems to forget their different path and becomes so close...and how they could understand each other while Smith keep talking in english and the other was on their own language...even the villagers could accept Smith without asking much about their background...They started to enjoyed their life in Dongmakgol and friendshipness.
But the peacefulness that they lnow feels didn't seems to be forever when a group of soldier came and it change everything...acctually they know this would come and they accept the faith that they acctually full of sins...trying to runaway is not the answer and the six of them decided to fight againts the coming army to protect Dongmakgol.