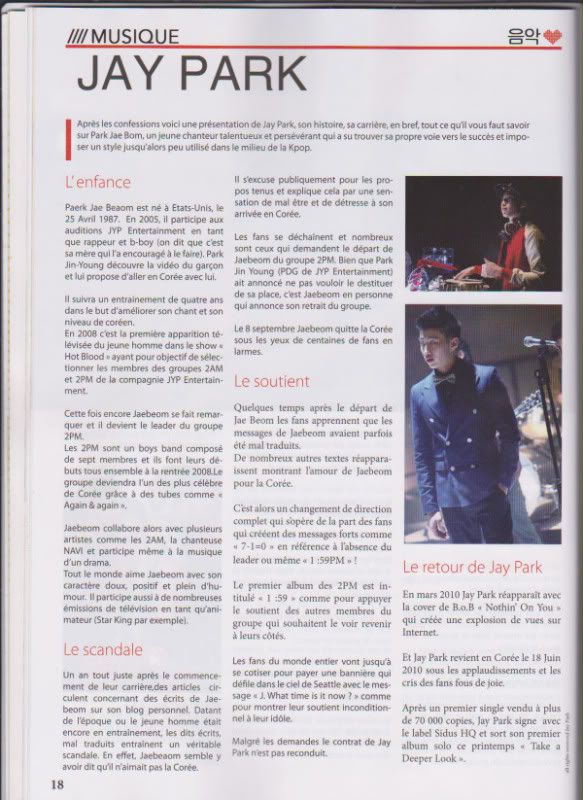 For this edition, we have the pleasure to get in contact with Jay Park who answered our questions with sincerity and humility. After his first solo album released in spring, he is on the cover of the movie "Mr. Idol" and soon a new single. For Kpop life mag, he came with his story; the 2pm episode, the return to Korea and finally this solo album and his plans for the future.
TAKE A DEEPER LOOK- 1st Solo Album
Q:Why did you choose this title "Take a Deeper Look" for your first solo album.
Jay: By naming this album like this, I wanted to spread the idea that things aren't always what they seem and often you need to dig deeper to find the truth, whether it's about something or someone.
"Take a deeper Look" suggest to go beyond the exterior vision that we have of things and that is what I tried to show through my songs on this album.
Q: TADL is a success, what are your other projects for this year?
Jay: Since the album release I did many performance in order to present my songs to the fans. I also plan to record a mini album and some singles in the nears future so I am always busy writing and composing new songs. I have also filmed two movies, Hype Nation and Mr. Idol.
Q: Can you give a definition of the music style you adopted for this solo album?
Jay: I incorporated many different styles in this album like hiphop, R&B and dance. I didn't follow a unique style but rather I created the style of music that I wanted to do.
Q: Is it's hard for you to write your songs in Korean?
Jay: Yes, sometimes it's a real challenge to write lyrics in Korean, compared to English but the more I compose the more it becomes easier.
CARRIER // Actual and Past
Q: Before this album you chose to make a song cover of "Nothing On You" by B.O.B. Did you expect to gain so much success in the cover?
Jay: By posting that video, I was simply looking for a way to express who I was to the people. I never dream that it would become that popular and I am really greatful it did.
Q: You went through some really hard times when things went wrong with 2pm but you returned even stronger with this new album. Would you say that you have a fighting spirit?
Jay: You can say so. I knew that creating music was what I wanted to do with my life so I didn't let any obstacle on my path block my way. I don't want anything blocking me from accomplishing my objectives.
Q: Is it hard for you to comeback in the Korean scene? Are you scared?
Jay: Yes, I was really nervous and skeptic at the beginning. But I would like to say that my fans helped me a lot and supported me through all these events. This made my comeback less frightening and helped me get where I am today.
Q: Was it difficult for you to make a comeback as a solo artist since you are used to singing in a group? Were you afraid of being on stage alone?
Jay: At first it was because it is hard to do a performance alone with all eyes on you compared to the times where I would get on stage in a group. But with this album, most of the time, I had my crew and dancers next to me on the stage, so the change was small since I was rarely alone.
Q: Now that you experienced both, which do you prefer? Being in a group or being solo?
Jay: It's cool to be in a group but on the other hand, it's great to make songs that are completely my style and not to have to make compromises to incorporate other's preferences into my music.
Q: Where do you live?
Jay: Right now I live in Seoul, South Korea.
Q: The French fans are far away from Korea and their idols. It's really hard for them to meet their idols (even for the most dedicated ones). Do you have a message for them?
Jay: I just want to simply say Thank You for the support they given me and for listening and liking music as much as me.
Q:You are in the movie called Mr. Idol, what is it about?
Jay: Oh Goo Ju (Park Ye Jin) causes a revolt against "Star Music" company directed by Sa Hee Moon (Kim Sooro) who is the most talented producer in the the entertainment industry.
Oh Goo Ju then creates a new company for new talents called "Champion Music"
It's a comedy that takes place during the creation of 4 popular idols who were trouble makers in the past.
Jay: My character is Ji Oh (Zio), member of "Mr. Idol", he was the first member of "Mr Children" and after it got disbanded, he became a DJ in a club. He goes back to his career as a singer with the re-formation of "Mr. Idol" group.
He curses, he's aggressive and he's already been charges for violence. He picks fight for no reason with YuJin (Ji Hyun Woo), the main singer.
Q:Do you have any intention of doing other movies in the future?
Jay: We will see, it's my second movie since Hype Nation in 2011.
Of course if a good scenario get presented to me I will play again. But first I would like to stay faithful to my profession, being a singer.
Plus, I am also working on some new tracks, I hope I get to present them to you soon.
Q:When will the movie be released in Korea? Will it be distributed internationally as well?
Jay: It's release is scheduled for October this year. I did my best so I hope the public will be receptive and that this movie will get the expected success.
It's a good movie, he may find a new international public.
Thanks to: Park JaeBum, Sidus HQ an the whole team who helped put in place this interview (in the United States and in Korea)
raduction: Jane Carda, In Seon Kim
SOURCE: Kpop Life (French Magazine); TRANSLATOR: Spirit@JAYPARK.NET
PLEASE DO NOT ADD/REMOVE CREDITS. YOU MAY ONLY TAKE OUT WITH CREDITS TO JAYPARK.NET.