The cast of variety program "Hot Brothers": (From left) Tak Jae-hoon, Park Myung-soo, Han Sang-jin, Noh Yoo-min, Simon D, Park Hwi-soon, Lee Ki-kwang and Kim Gu-ra [MBC]
The "Hot Brothers" segment in MBC's variety show "Sunday Sunday Night" is like a mutated version of a regular variety program. Unlike the common real variety shows where they assign cast members with a certain challenge and show viewers how they carry it out, the eight members of "Hot Brothers" -- namely Park Myung-soo, Tak Jae-hoon, Kim Gu-ra, Han Sang-jin, Park Hwi-soon, Simon D, Lee Ki-kwang and Noh Yoo-min -- create a situation drama within pre-established circumstances on the set. In the "Avatar Blind Date" episode, which already aired on television, unmarried members Park Hwi-soon, Simon D, Lee Ki-kwang and Noh Yoo-min were seen controlled by members Park Myung-soo, Tak Jae-hoon, Kim Gu-ra and Han Sang-jin -- a situation which produced unnatural situations that were delivered in a comic way. On "Hot Brothers," there may be a fixed set-up but it is up to the cast members to lead the situation and the drama.
Such set-ups in the show was revealed at the show's press conference, held May 24 at MBC Broadcasting Center in Seoul's Youido district. In the "Loser's Round" episode, the third and final installment of "Avatar Blind Date Series" where the master of the avatar changes from one member to another, members were newly paired up and gave viewers a new reason to laugh than during the first and second episodes. In the fourth episode titled "Know Thy Brother," the cast were given an absurd situation and seen struggling through it, each in his own way. Can "Hot Brothers," which stands between being a reality-based variety show and a sitcom, really ignite a hot spark among variety shows with its unprecedented, mutated humor?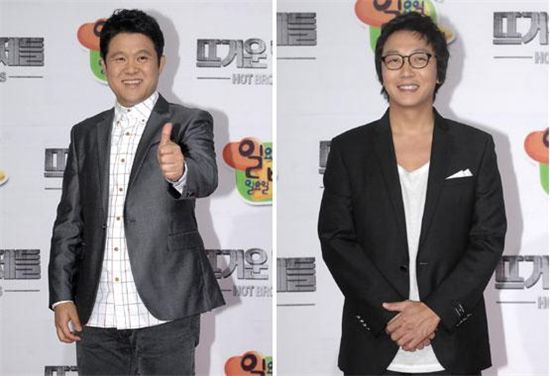 Kim Gu-ra (left) and Tak Jae-hoon [MBC]
Q: You said that the new "Hot Brothers" segment will revive the popularity of "Sunday Sunday Night." All of you must feel quite determined about doing it.
Tak jae-hoon: When the segment line-up changed in "Sunday Sunday Night," I joined "Danbi" [another segment on the show] and tried to inspire viewers. From now on, I will leave it to "Danbi" to inspire people and focus on providing laughs. We are going for a different approach, unlike the existing variety shows. We will work hard on creating laughters. You may even call us "dorks."
Park Myung-soo: Tak Jae-hoon and Kim Gu-ra are probably feeling a burden on their shoulders. They failed on their two previous segments. (laugh) In a way, this is their last chance. Right now, it is trendy to shoot variety shows outside the studio but we are trying to do new things that we can shoot inside the studio. The most important thing is to enjoy working on the show. I don't want to feel like I don't remember what I did today, I want to feel like I had a good time shooting today. We are trying to create new kind of humor -- such as huge laughters and a lot of fun stuff. This -- I am going to make people laugh with it. (laugh)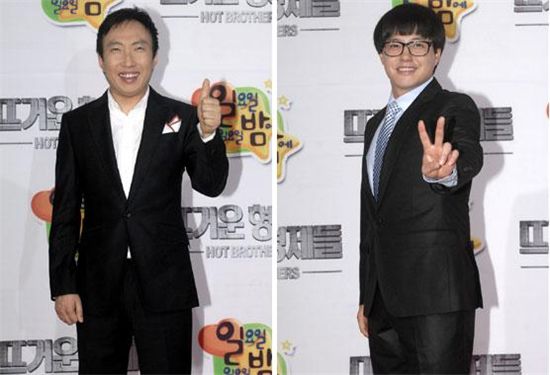 Park Myung-soo (left) and Noh Yoo-min [MBC]
Q: You are trying to make a new type of show but it is a red ocean market. There are many rival shows that have a group of male stars appearing in them. How are you trying to differentiate the show?
Producer Oh Yoon-hwan: I monitored the viewers' board on the show's website and I don't think that they see it as something similar to segments like "The Qualification of a Man" or "1 Night 2 Days" from KBS' "Happy Sunday." The intention behind making "Hot Brothers" was we wanted to show people that brotherhood is not limited to those who are brothers by blood. We want to show viewers how people who have different jobs and are of different ages build on their brotherly bond. Simply put, I want people to regard it as a total gift set of variety shows that charges toward laughters.
Tak Jae-hoon: I wish there was a third species other than men and women. (laugh) Then we would have a new picture. Eight of us started doing the show with the aim of sharing a brotherly bond but we were met with MBC's labor strike. We were frustrated because we were having a great time but could not get on the air for eight weeks. I thought I was going down again. (laugh) The 4.8 percent rating [for the first two episodes] bothers me, but I think it will enter the ten percent range once we hit episode four. From the fifth episode, we are trying to make a new program with an entirely different approach.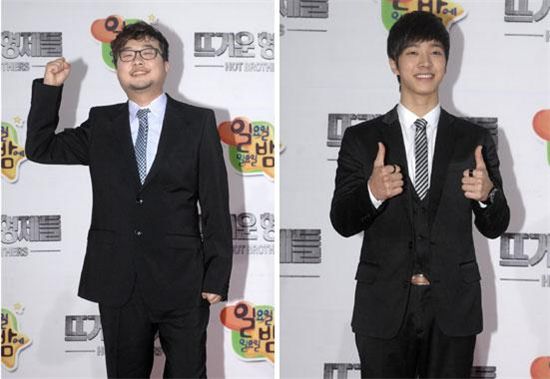 Park Hwi-soon (left) and Lee Ki-kwang [MBC]
Q: Putting Park Myung-soo, Kim Gu-ra and Tak Jae-hoon together is a new combination. How does it feel?

Park Myung-soo: It is always difficult to create a new picture and new laughs. That is why the union of new cast members is important. These days, doing the show with Kim Gu-ra and Jae-hoon has brought a new source of humor because they can make you laugh by just saying something. I hadn't worked with the younger cast members before either, but I think a lot of things will change depending on how the older guys do on the show.
Kim Gu-ra: The viewers have already pegged us as the strong, funny characters. While I was shooting the fourth episode, I realized that the key issue was how much each person contributes to the show. In the case of "Daemang" on "Sunday Sunday Night," the segment had outstanding cast such as Kim Yong-man and Shin Jung-hwan. But "Hot Brothers" is different. I appear on the segment with these guys but I am on a different level compared to them, in terms of salary and circumstances. I thought -- for the first time that I have been doing variety programs -- that I should start taking other people into my consideration. Usually I think about how I should shake things up on the program, but it is a little different this time.
Tak Jae-hoon: There are no words to express how sorry I am [that his previous variety program failed.] I will put aside my apology for the time being because I have to squash [other variety program] and get on top.
Q: Han Sang-jin, it is your first time being a regular cast member on a variety show. What kind of mindset do you have working on the program?

Han Sang-jin: It has been over ten years since I debuted as an actor but I am working on the show like I am a newcomer. When I went home, I often thought about not wanting to do it and I worried a lot too, wondering how things would turn out. During the strike, I gained more confidence after I went on an overnight trip with people and kept in touch with the younger cast members. And I set a new goal in my heart. I am going to do my best so that "Hot Brothers" can win the grand prize at the year-end Entertainment Awards ceremony. Like Park Myung-soo won grand prize for "Infinite Challenge."
Park Myung-soo: .... (shakes his head)
Q: You said that you didn't want to do the show -- why?

Han Sang-jin: After I shot the first episode, I found that watching the show and doing it were two different things. I had done a lot during the taping but I saw that didn't get much air time during the broadcast. I realized that being funny on the show is what is important, not how much I say. When you are acting, you have a script. But you don't have a script when you are doing a variety show, so it is hard. I think Park Myung-soo and Kim Gu-ra are geniuses. A lot of actors cross over to doing variety shows, but they should be as ten times more determined than they usually are when they make a decision.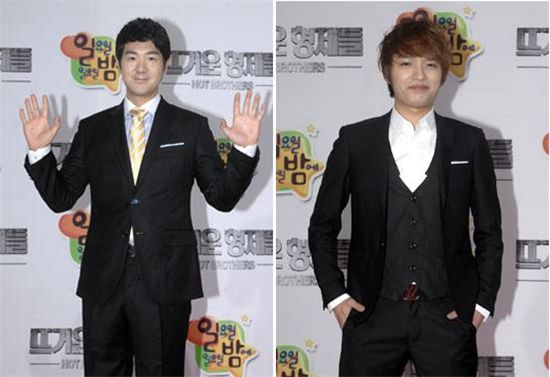 Han Sang-jin (left) and Simon D [MBC]
Q: How determined are the rest of the members?

Noh Yoo-min: I was worried that people might point their fingers at me for gaining weight and looking terrible. I have to put out a new album, so I am going to lose some weight. I am not sure that I stand out in the show -- I think people just like me because I work hard.
Simon D: I have nothing to lose because I am a variety show rookie. I don't know how you are going to take this but I am making a "doggy mess." I haven't been able to make my entrance because I don't know the right timing. After I have drinks with older cast members several times, I think I will start fitting in with them one day. I come to the set feeling like someone who comes to catch a glimpse of celebrities.
Park Hwi-soon: I too am a man who has nothing more to lose. All I have left are my looks. I am a regular on a variety show for the first time in my career. Just like [Yoo] Jae-seok and [Park] Myung-soo got married after they gained popularity doing "Infinite Challenge," I want to get married too after "Hot Brothers" does well. The first and second episode have aired so far and it was as strong as ever. The real-time viewership rating went up as high as ten percent. I am a guarantee for high ratings. Keep watching the show for over a year. If the ratings doesn't climb after that, I will drop out. This is the first time that I am saying such things with confidence. Even "1 Night 2 Days" started in a four percent range in the beginning. I went to three fortunetellers and they all said the same thing -- that everything will work out after lunar March passes. (laugh)
Lee Ki-kwang: I don't really know anything because I just made my debut. I will keep building my brotherly bond with the older guys, learn how to do variety shows, grow into a better pop idol and show viewers a meaningful, fun side of myself.
Q: What are your agendas as the Chief Producer of the show?

Chief Producer Kim Young-hee: In a reality-based variety show, it is important that cast members have good chemistry with one another and that they work well with the producers. It took us three months to cast the eight members for "Hot Brothers" segment in "Sunday Sunday Night." Dozens of people went in and out during the casting process and the last one to become the eighth member was Park Myung-soo. Apart from how funny or unfunny Park Myung-soo himself was, we worried if the combination of Kim Gu-ra, Tak Jae-hoon and Park Myung-soo would mesh well. Eventually we felt confident about the new combination and cast them. You are saying that "Hot Brothers" is a variety show for just men and that it might be a red ocean. But if you look at the viewers' board, you will see that they are really passionate [about the show]. It is hard to get a reaction like this from viewers at such initial stage of the show -- and I myself have been directing TV shows for twenty years. I can tell you that it is the most entertaining show out of all the variety programs that air on three networks.
Editor : Lynn Kim lynn2878@ , Lee Ji-Hye seven@
<ⓒ10Asia All rights reserved>