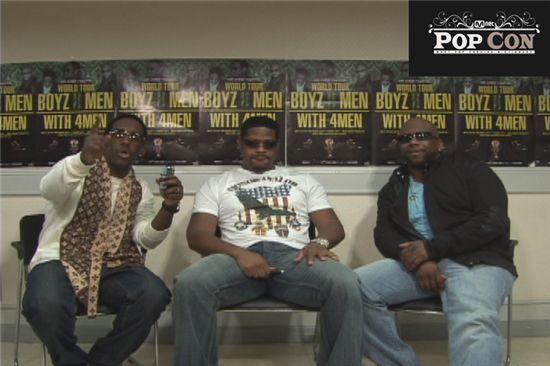 American R&B group Boyz II Men appear on music show POP CON in Korea
U.S. pop group Boyz II Men, who recently gave concert in Korea, has said that they would like to work with K-pop female band T-ara and Girls' Generation, according to music channel Mnet on Friday.
The three-man band sat down for an exclusive interview with Mnet, held after their Seoul concert on April 16 and 17, and talked about Korean pop music and artists.
The American singers were well aware of the girl band craze in Korea, mentioning groups T-ara and Girls' Generation, and remarked that they "would like to work with them if opportunity arises."
When asked about Korean pop groups 4MEN and Brown Eyed Soul (the former had opened for Boyz II Men's Seoul gig while the latter had met the group backstage), they answered that they had listened to their music, adding that both groups had "excellent skills."
About their latest album "LOVE" -- a collection of remakes of classic pop songs -- they said that they were "inspired by the past which we love and, of course, we wanted to share our favorite songs with fans."
Founded in Philadelphia in the late 1980s, the group -- originally composed of Michael McCary, Nathan Morris, Wanya Morris and Shawn Stockman -- released their debut album "Cooleyhighharmony" in 1991, which sold over nine million copies and won a Grammy.
Their single "End of the Road", featured on the original soundtrack for Eddie Murphy film "Boomerang," stayed at No. 1 on the Billboard singles chart for 13 weeks. Another single "One Sweet Day," performed with pop diva Mariah Carey in 1995, holds the all-time record for the longest No. 1 run at 16 weeks.
Their second album "II", released in 1994, produced two more chart-toppers "I'll Make Love To You" and "On Bended Knee" and sold over 12 million copies in the U.S. alone.
Member Michael McCary left the group in 2003 however, due to physical and personal problems. The remaining members, who have released several more studio albums and compilation records, are planning to mark the 20th anniversary of the group's debut next year with a new album and cruise tour.
"POP CON" airs on Mnet every Saturday at noon.
Reporter : Park Sung-Ki musictok@
Editor : Lynn Kim lynn2878@
<ⓒ10Asia All rights reserved>
* Isn't it cool to be recognized by this band. Boyz II Men is my fav. band too hahaha. Love them even now. Go go B2M...