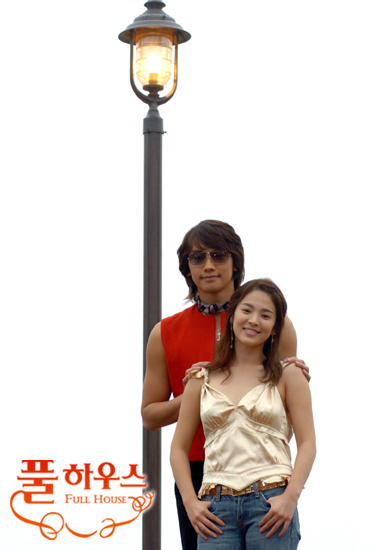 I'll start introduce all the cast in this drama....
Han Ji-eun: Song Hye Kyo (All In/Guardian Angel/Autumn Story)
She isn't as tall as most of the famous Korean actresses like Choi Ji Woo or Son Ye Jin, but if there's one thing Song Hae Gyo is good for, it's that photogenic and bubbly face of hers. And in 'Full House', her bubbly side is further 'exploited' to full use by the producers of the show.Han Ji Eun is a girl who knows nothing about the moon or the sky. She's a simple-minded girl trying to live her life when her friends sell her house without her knowledge and totally land her in a big mess.
Lee Young-jae : Bi (Rain)
Bi really impresses in 'Full House' because he was cast in a role that required him to be aloof, stubborn and seemingly unemotional, a role very different from the one he undertook in 'Sangdoo, Let's Go To School'.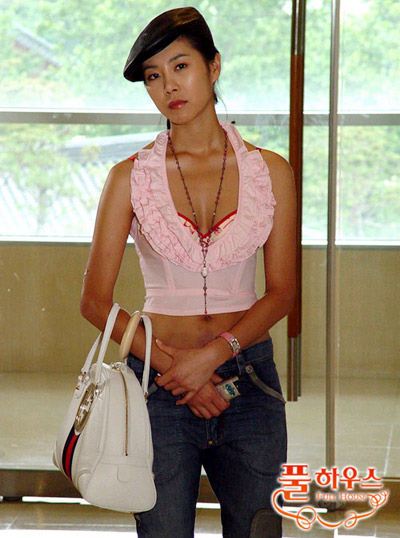 Kang Hye-won : Han Eun Jung (Scent of a Man)
Hye Won is played by the slightly vivacious Han Eun Jung, who looks great by the way. Her dressing, however, is very suitable for her role as Hye Won as Hye Won is actually the fashion artist for Young Jae and she chooses the clothes Young Jae wears too.
Yoo Min-hyuk: Kim Sung Soo (Say you love me)
A pity that he's already attached, but nonetheless Kim Sung Soo is still a hottie in the eyes of many ladies out there. And it helps that he can speak fluent Japanese too! You'll see Min Hyuk going off in Japanese in the early stages of the drama, that's also where he meets Ji Eun for the first time.
Min Hyuk happened to be in the same class as Hye Won and Young Jae when they were kids. All these while, he never realized that Hye Won had a soft spot for him and thus treated her no more than a sister
This is how the story begins......
Han Ji Eun (Song Hye Kyo) is an internet novel writer who live alone after her parents departures due too accident. She lives in a house named Full House which was build by her late father.
Meanwhile Lee Young Jae (Bi Rain) is a well known actor. Lee Young Jae portray an arrogant, rude but at the same time have a soft spot to her childhood best friend Kang Hye Won (Han Eun Jung) who also a fashion artist for LYJ. LYJ has never mentions to KHW about his feelings knowing that KHW has always love Yoo Min Hyuk who apparently also his friend.
The story between LYJ & HJE begins when they first mate while on board to China. HJE who believes that her expenses to China was fully covered by her best friend start her journey while her precious house was sold by her friend. Come back and find out that everything has been settled down by her friend makes her goes crazy and her problems doesn't seems to stop there when she find out that the buyer is the well known actor LYJ.
Long story short, LYJ & HJE agreed to sign a contract for their fake marriage and start living together not as husband and wife but as a boss and his maid... and yes of coz while living together the chemistry is working well... they felt for each other and yet hard to spill it out. The contract will be terminated after 6 month and Full House will be handed to HJE.
Love, jealousy, fight and cry... Full House have it all. This is the best drama ever.
Credit Image To: http://img.kbs.co.kr/drama/
Full House was filmed in the Gwangyeok-si area of Incheon. Located near Incheon International Airport, it's a ten-minute boat ride from Sammok Harbor to this quiet, seashore getaway. Unlike other filming locations in Korea, this is an actual house. Made mostly of wood, this house, made especially for the miniseries, cost approximately one million US dollars to build. The beachfront property looks out onto open waters, with elegant views that could be used on any postcard. Many fans of the miniseries make a pilgrimage to this now famous home. Nearby sightseeing locations include Jogak (sculpture) Park on Modo Island; a bridge connects these two islands.
[ Full House Photo Gallery ]

Outer View

Beach View

Living Room

2nd Floor Hall Area

Han Ji-eun's Desk in Living Room

Han Ji-eun's Bedroom

Lee Young-jae's Bedroom

Living Room

Bathroom

Han Ji-eun's bike