Believe me this drama was great...well no need for me to talk much about Kim Rae Won coz he was already known well as a great actor...but he really seems work hard this day...maybe it's because of his military services was in the coming years...
I don't really know about the co star but I've seen her in My Name Is Kim Sam Soon...Jung Ryo won...she has the great acting skills...she really make the character alive...at first she is the perfect lady like and then she is the village girls with a tough character...I'll consider her as a great actress...The way she talk, the way she cry even the way she laugh it's cool...well you wouldn't believe me if you won't watch it however hope this review could help you to make your mind...
WHICH STAR ARE YOU FROM?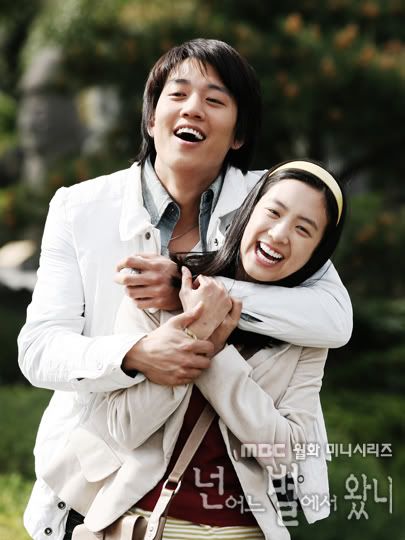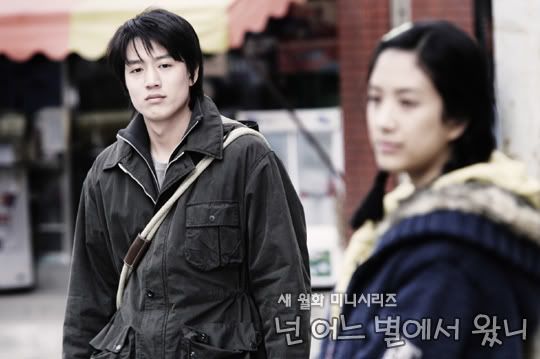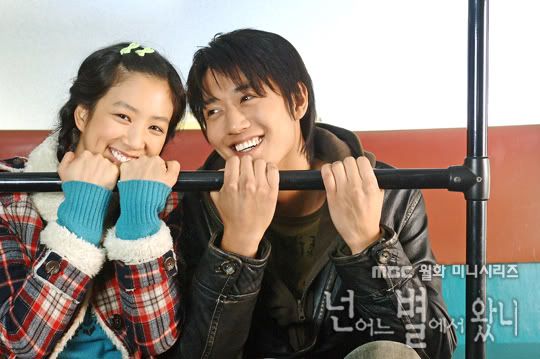 "LOVE IS NOT SOMETHING THAT YOU COULD THINK BUT FEEL"
The review: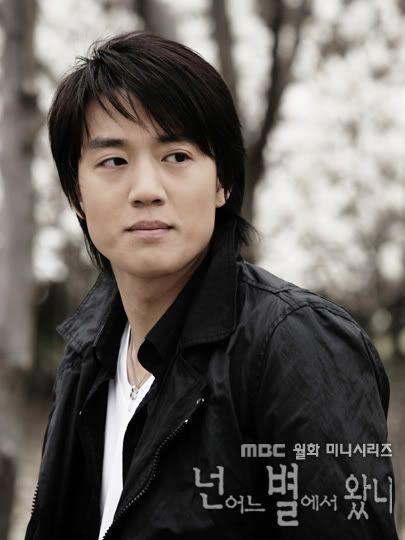 ~The Guy Who Lost His Lovers~
It started with a party celebration for a successful scenario writer or movie director Choi Seung Hee (Kim Rae Won). He met his first love Lee Hye Su (Jung Ryo Won) at this party after being introduce by his friend. Choi Seung Hee and Lee Hye Su being together as a very lovely coulpe but have to face Lee Hye Su mother who has disagree with their relationship...well as usual we will see how tough and so in love this couple are by keeping their love life and ignoring all the obstacal...Everything seems perfect...and Choi Seung Hee had make up his mind to propose Lee Hye Su...and it was the last thing he should do...I mean proposing her at a wrong place and a wrong time...
After several years...Choi Seung Hee at last came back to Korea and decided to live all the past behind and begin his life as a normal person with a success career. While he was on his way looking for an idea for his first MV after several years...he end up in a small city where he met with a girl who is look a like to Hye Su. Choi Seung Hee begin to follow this girl without knowing where it brings him...The moment that he met this girl...his life started to change...he can face the fact that he will never meet Hye Su again and begin his life without thinking about Hye Su.
But things didn' t happened as he hope when Kim Bok Sil that he know was related to Lee Hye Su...at this time he find out that after so many things that happened to him...this is the hardest moment in his life...trying to forget his past and to love again but finding the truth about Bok Sil was not a relief him but it becomes a burden and think that his feeling Bok Sil was all wrong...
It may take him 3 years to let go all the feelings he kept for Hye Su, but to let go the feelings and pretending there is nothing special between him and Bok Sil seems to take his whole life to make it...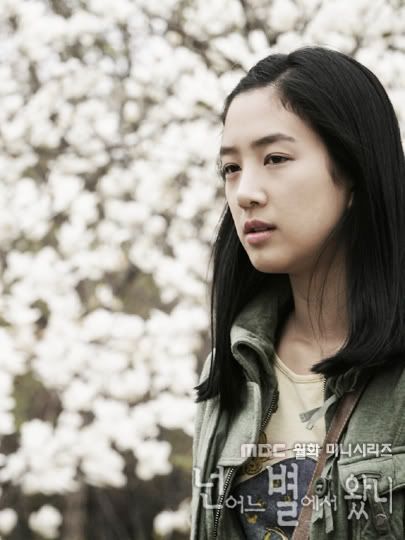 ~The Village Girl Who learned About Loves~
Kim Bok Sil the village girl was nothing special...but loved by everybody especially her mom who was suffered from last accident Bok Sil however never thinking about living her mom and she even plan to live in the village for the rest of her life.
Well this kind of plan of coz not going to be happened...everything was changed after she met Choi Seung Hee...not that she like him but because of him there was a shooting for the first time in her villages and here she happened to meet several people who has relation to Hye Su...but she never thought that they will meet again after the MV shooting.
Something has happened to her mom that need her to find a job so she can pay for her mom treatment and this decision has changed her life forever. In Seoul she work under Choi Seung Hee supervision. Here she started to know the real Choi Seung Hee. They always fight but at the end they'll be friend again...what they didn't realize is that they need each other...but again of coz there is a problem...
Kim Bok Sil and Lee Hye Su was acctually a sibling who has separated when Bok Sil was 2 years old. This happened when a restaurant that Bok Sil real parents run was on fire and Bok Sil was missing in the accident and they can only believe that she was dead. Bok Sil real name was Lee Hye Rim.
Bok Sil was set in a world that she never belongs to...her loves towards her mom who was staying in the village was so deep but still she have to accept the fact that she has another mother that she need to give chances...when a person has two name and two mother things was not easy...it even worse when a person have to live in different life style...all of sudden her life was full with preasure and the hardest things for her to accept is the way Choi Seung Hee react and treat her suddenly had change...
All that Bok Sil want is Choi Seung Hee loves...There some quote that really interesting...it was when she talk to her real mother about her feelings...
"I don't know your pain, I don't know how you feel, I don't know how grandpa, or sis feels...I really don't know how much pain you have...may be it's because I haven't spend my time with you since I was child...all I know is I really love Seung Hee...If I''m not a daughter of a rich family or a cinderella...I still met with Seung Hee anyway...so I really think that you are so annoying...mom you really annoying me...and when think of that I know I'm a bad girl...Mom, I don't know your pain all I know is if Seung Hee was hurt my heart is in pain..."
I really like this quote...even if it look like she was saying something that may hurt her mom...but I think it really great...hmmm...great script and love it...
End of review...this drama got it all, but to tell the true I think I started admire Jung Ryo Won...she just really great...untill next time...have a pleasant day...
Credit photo to: MBC.com