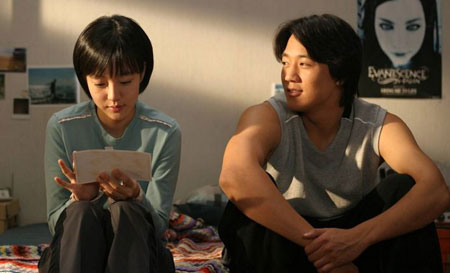 This is not a new movie and I've already watch it many times but couldn't find the way to describe how was the feeling after watching it...but all that I can say in here is that Ing...was all about how strong it goes the ties between mother and daugther relationship.
Im Soo Jung (Min-ah) has just been transfered from another school is a quite and keeps to herself living with her mother Lee Mi-sook (Mi-sook) who is widowed.
Min-ah is a high school student who has just been transferred from another school. She is quiet and keeps to herself as she has a deformed hand and has spent most of her life in the hospital battling a life-threatening disease. She lives with her mother Mi-sook, who is widowed. Mother and daughter share a close and intimate relationship, and Mi-sook wishes for Min-ah to experience all aspects of life, including first love.
Min-ah befriends Young-jae, the new neighbour downstairs, and starts to experience her first love. However, everything is short-lived as Min-ah finds out that she is dying...